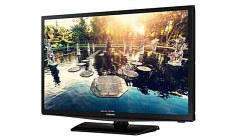 Hover over image for larger picture

Product Specs
24" / 32" / 40" / 49" / 55"
Samsung Hotel Television - HE690 Range Freeview / Satellite
HG24EE690AB
HG28EE690AB
HG32EE690DB
HG40EE690DB
HG49EE690DB
HG55EE690DB
Built to meet the growing demands of guests, Samsung's new HE690 premium hospitality displays introduce an all-in-one content and entertainment center with an array of convenient features. Through Samsung's LYNK REACH 4.0 content management solution, managers can deliver customized content geared to their guests while being able to streamline management of hundreds of in-room displays. Meanwhile, guests gain further benefits such as being provided with low-cost, hassle-free IPTV service, and improved connectivity and compatibility with their personal devices. Having a connected Ethernet Bridge and Bluetooth music player completes the overall offerings of HE690 displays, as they work to evolve standard in-room displays into multi-functional content centers, thereby empowering guests while concurrently helping managers realize improved operational efficiency.
LYNK™ SINC 3.0
The upgraded LYNK SINC solution, an embedded IP-based content management solution, delivers in-room content and a convenient user experience over a hotel's IP network. Additionally, LYNK SINC's new function, IPTV Standalone is available without SINC content through a free license, which means hotel managers can have IPTV service without purchasing any additional solutions.
H.Browser Compatibility
H.Browser is an HTML5-based software platform that enables partners and system integrators to develop custom-built IPTV applications for the hospitality industry without the need for a STB. It offers supports HTML, CSS, Javascript, XML, Image and other file types. Additionally, the embedded TV emulator provides developers with a visual preview of the app as it is being built, allowing them to test and package their software.
LYNK™ REACH 4.0
LYNK REACH 4.0 is upgraded to accommodate existing LAN, WIFI and coaxial infrastructures to streamline hotel management. LYNK REACH 4.0 deploys personalized guest messages options of hotels, expands content delivery and facilitates two-way communication between hotel management and guests. User interface templates to deliver essential information can also be accessed, while in-room displays can be managed through a remote control center.
Home Menu
Deliver a wide array of content to guests with an enhanced Home Menu that does not require the additional purchase of a solution or network infrastructure. New enhanced home menu enables hotels to welcome guests with a brief video clip along with the hotel logo before offering live TV. Guests can conveniently view resources such as the time, date and hotel information, and access frequently used TV features in user mode
Smart View
Watch TV channels on a broad range of mobile devices. Guests can also upload content, such as photos, videos and music files, from a mobile device to an intuitive interface on the TV for easy selection and viewing.
LYNK™ DRM
Provide a safe and cost-effective alternative to traditional hardware-based content protection systems using Samsung LYNK DRM technology. The solution allows encrypted live channel and VoD content to pass securely and display on hotel TVs. It also reduces the need for additional equipment and provides quicker recovery for Conditional Access System (CAS) problems. To help ensure system reliability, coverage extends to the enlargement of head-end equipment for cable operators.
SI Compatibility
Experience high compatibility with various System Integrators' protocols at purchase with Samsung hospitality displays. This SI compatibility helps hotel managers save their time and effort when setting up protocols between SI-provided set-top boxes and displays
Headphone ID compatibility
"Give guests the luxury of listening to TV in bed without the cumbersome need to extend the headphone cable. Headphone ID detects when a pair of headphones is connected to the extension sockets next to a bed and switches the audio output to avoid disturbing others in the room.
*Headphone ID compatibility availability may vary by region/country.
Enhanced Security Mode
Utilize uniquely strong content management with Security Mode. With this feature, you can block critical functions of the displays, such as USB Cloning, to easily prevent changes to the displays' settings. You can also block non-compliant content or the transmission of unwanted Teletext (TTX) to maintain complete control of content on guest room displays.
Variable Speaker Out
Increase flexibility and enjoyment by connecting the TV's sound to other parts of the room with the external speaker-out post. Guests can listen to their TV programs from anywhere in the room or bathroom through speakers installed in remote locations.
Sound Bar Compatibility
Pairing a Samsung Hospitality TV with a Sound Bar creates a truly high-end media environment. Connected by a High-Definition Multimedia Interface® cable, settings are automatically applied, making installation a breeze, and the universal remote gives guests full control over the entire system.
Multi-code Remote
Eliminate annoying interference from other remote signals, such as hotel fitness centers, where multiple TVs are in close proximity. The multi-code remote can control up to 10 TVs individually in the same room.
Connect Share
With ConnectShare™ Movie, guests simply plug their USB stick or hard drive into the TV, allowing them to instantaneously view and share movies, photos and music. Content comes alive on the screen with excellent picture quality.
Channel Editor
Hotel managers can adjust the channel mix for both analogue and digital signals without the need to edit channel lists for different TV systems. The hotel can reorder and rename channels to make channel mapping easy and intuitive.
External Clock
An optional clock accessory can be attached to the bottom of the display, minimizing room clutter and making it easy for guests to monitor the time.
Software Clock