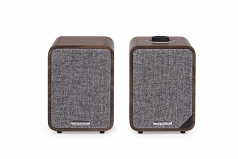 Click on a picture to change - Hover to enlarge
Ruark Audio MR1
Ruarkaudio award-winning MR1 Bluetooth speakers will provide remarkable sound in multiple applications. Flawless as computer speakers, ideal to use with a turntable and a fantastic way to improve the sound of your TV, MR1 Mk2 will fill any room with quality sound without dominating it, making them perfect for music lovers and the design conscious alike.
Class leading sound quality
Hand crafted bass reflex tuned and damped enclosures
Ruark Audio long throw 75mm woofer with powerful neodymium magnet system
Ruark Audio 20mm treated textile dome tweeter with neodymium magnet system
Linear Class A-B Amplifier, 20 watts nominal output
Audio grade components throughout
2m quality braided speaker interconnect
Loudness function provides enhanced sound at low volume levels
Auto mono operation (can also be used as a single unit)
H170 × W130 × D135mm each
3.5Kg per pair
SOUND FOUNDATIONS
On their own MR1 provides the foundation of a complete music system and with a turntable you can be part of the vinyl revival. Also with their super high quality aptX Bluetooth receiver, you can wirelessly stream your music to MR1 with CD quality sound.
A POWERFUL PERFORMANCE
For MR1 they've developed custom loudspeaker units to deliver sound performance that belies MR1s compact dimensions. Both the tweeter and bass units feature powerful neodymium motor systems which provide greater magnetic concentration, for better driver control, in a lightweight and fully magnetically shielded system.
GREAT CONNECTIVITY
Voice controlled devices from the likes of Amazon and Google are interesting technologies, but deciding which may be right for you and which will stand the test of time can be daunting. This is a key reason why all their products incorporate Bluetooth and auxiliary inputs, so devices such as these can easily be connected and enjoyed with their products class leading sound. Also when technology changes (which it is bound to) then it is easy for you to upgrade as required.