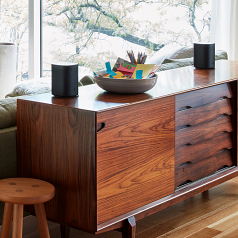 Sonos One - Voice Controlled Smart Speaker
The smart speaker for music lovers
The new Sonos One with Amazon Alexa
Available in Black or White
Sonos One blends great sound with Amazon Alexa, the easy-to-use voice service, for hands-free control of your music and more. Use your voice to play songs while you cook. Tell Alexa to turn up the volume while, or even request a lullaby when you're tucking the kids into bed.
Sonos One connects with the Amazon Alexa voice service easily over WiFi. Just set up the speaker, select the Sonos skill in the Amazon Alexa app, and you're all set to play music, get news and answers, manage your smart devices, and enjoy everything else Alexa does using nothing but your Sonos One.
Since Alexa responds to any voice, anyone in your home can take control of the music. Kids can call out their favourite sing-alongs. Friends can skip or replay tracks, and adjust audio settings. All without accessing an app. Party guests can request their favourite songs in real-time. No matter who says it, Sonos plays it.
· Start and control your music with your voice. Amazon Alexa, built in.
· Play songs, check news and traffic, manage smart devices and enjoy all those other helpful Amazon Alexa skills using a single Sonos speaker.
· Combine your voice with the Sonos app to manage all your music in one place: Amazon Music, Spotify, Apple Music, internet radio and many other streaming services.
· All the music you love at your fingertips or the tip of your tongue. Find the right music for every moment on Spotify. Search any artist or song, create and share playlists, and get personalized recommendations. Listen on Sonos and control the music with your voice, the Spotify app or the Sonos app.
· Connect wirelessly with other Sonos Home Sound System speakers to play music in any, or every room.
· Enjoy surprisingly rich, room-filling sound from a smart speaker.
· Seamless all-black or all-white colour with smooth matte finish for a look that fits in any home.
SONOS ONE FEATURES
Complete privacy
An illuminated LED indicator light makes sure you always know when your speaker's microphone is active. Or turned off. Sonos One is designed with extra security: the hard-wired LED connection ensures no one is listening when you want privacy.
Custom microphone array
Sonos One is built with a custom six-microphone array to hear you from anywhere in the room, no matter how loud the music is playing. With smart voice capture and noise cancellation, the Sonos One makes sure you're heard.
Responsive audio chime
Alexa produces an audio chime to let you know that Sonos One has heard you and is working on a response
Proven design
Built on the mini-but-mighty blueprints of PLAY:1, Sonos One is backed by a a pair of Class-D amplifiers and custom-built drivers are perfectly tuned to the speaker's unique acoustic architecture.
Touch controls
Tap to turn up the volume. Swipe to skip a track. Mute the microphone for privacy. Sonos One's touch controls are always a tap away.
Fits almost anywhere
Mount Sonos One to the wall or ceiling, or on a speaker stand. Its small size also makes it perfect for bookshelves, counter tops and snug spaces. All you need is Wi-Fi and a source of power.
Trueplay speaker tuning
Trueplay fine-tunes Sonos One to ensure you get the very best sound in any room, no matter where you put it.
Modular
Pair two Sonos Ones together in the same room for instant stereo sound. Add a SUB for deeper bass. Or pair with your TV's PLAYBAR or PLAYBASE for epic home cinema surround sound.
Add to your Sonos Home Sound System
Sonos One wirelessly syncs with your entire Sonos home sound system. Play different songs in separate rooms. Or group them together to hear the same song playing throughout your home.
Better over time
As Sonos is continually updating with new features, services and skills, your music and voice-control options will both keep getting better over time.
WHAT'S IN THE BOX
Sonos One
power cable
flat Ethernet cable
Sonos One QuickStart Guide
Legal/warranty information
TECH SPECS
2x Class-D digital amplifiers
1x tweeter
1x mid-woofer
1x 10/100Mbps Ethernet port
1/4 inch (6.35mm) / 20-threaded mount
6 far-field microphone array
AC 100-240V, 50-60Hz, universal input
Weight
4.08 lbs. (1.85kg)
Dimensions (H x W x D)
6.36 x 4.69 x 4.69 in. (161.45 x 119.7 x 119.7 mm